Fiesta Señor 2023: 'Faith stronger than fear,' Cebu Archbishop Palma says
FIESTA SENYOR. Thousands of devotees join the 'Walk with Jesus' or the penitential foot procession from Fuente Osmeña to the Basilica Minore del Sto Niño, during the first day of the 458th Fiesta Señor celebration in Cebu City on January 5, 2023.
Jacqueline Hernandez/Rappler
Cebu Archbishop Jose Palma presides over the Fiesta Señor Pontifical Mass in person again after two years and tackles in his homily COVID-19 challenges, Typhoon Odette, and the environment
CEBU CITY, Philippines – After two years, thousands of devotees of the Santo Niño were able to attend the Pontifical Mass of the Fiesta Señor at the Basilica Minore del Santo Niño de Cebu on Sunday, January 15, the Feast of the Holy Child.
"It's wonderful to think that many of us are able to gather here and worship our Lord in person after three years that we were unable to gather," Palma said in Cebuano.
The 71-year-old archbishop himself is a COVID-19 survivor, who recovered from the disease last February 2021.
A Pontifical Mass is a special Mass celebrated with a bishop or archbishop as the presider. It is the highlight of the Fiesta Señor celebration that includes nine days of Novenas.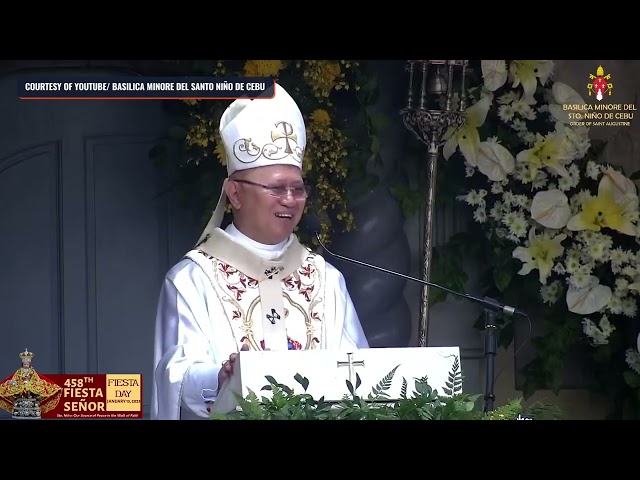 Overcast skies threatened to rain over the millions expected to gather in Cebu City's South Road Properties to celebrate the Sinulog 2023 grand parade. Around the Basilica, light sprinkles did not faze devotees.
Most days have been wet in Cebu during the Fiesta Señor